An Observation checklist (OCL) enables line managers to assess employees' performance against clearly defined set of role-based behavioural and functional standards or requirements.
Line managers may also invite others to assist in the performance reviews (thus becoming Mentors).
Transparent and real-time feedback allows employees to understand how they're being benchmarked and who's assessing them. Audit trail of all assessment records and notes can be utilised during 1:1s between managers and individuals.
The observation checklists are an indispensable part of a structured onboarding or yearly benchmarking. This makes them a cornerstone of performance management.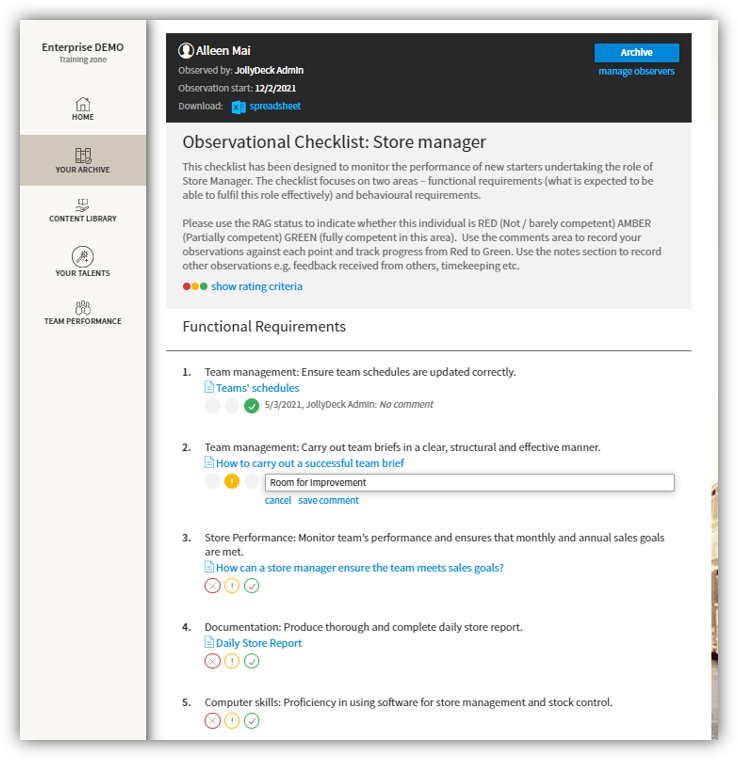 Record performance anywhere & anytime
No more need for paper based observations and assessment. Observe, record and track electronically in real-time!
Whether in the office or in the field, you can record observed performance against the requirements set out in the checklist. It's fully mobile and available on any device.
Two way process
The OCL enables observers to leave feedback related to individual requirements as well as an overall feedback note on employee profiles. And the process doesn't have to be one sided. Line manager can share the OCL with their employee, who will benefit from understanding expectations and having the resources available to support their development.
Audit trail and GDPR compliance
All records, assessments and notes are kept for audit purposes. Archiving an OCL will automatically generate an exportable file for record in GRC systems.